How will the coronavirus pandemic affect global carbon emissions?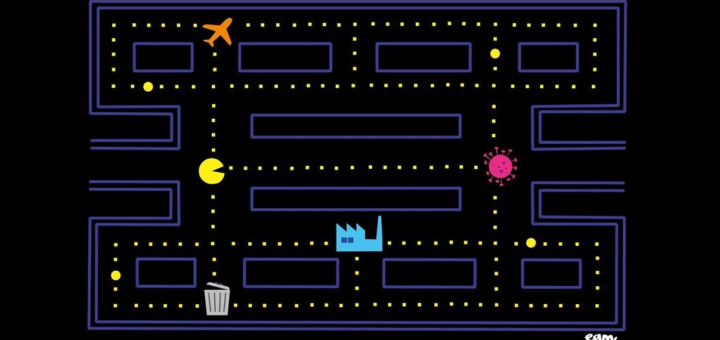 As coronavirus swept the planet, strict lockdowns were implemented across the globe to stem the spread of the deadly disease. These measures have caused mass suffering and affected almost every aspect of society, including our carbon emissions. A recent study published in Nature Climate Change found that at the peak of lockdown on 7th April, global carbon emissions declined by 17% worldwide (and 31% in the UK)1 2. This huge drop, a goal that seemed unattainable just months ago, had been achieved in the span of just a few short weeks. But is this plunge something to be celebrated and what impact will it have on addressing the climate crisis?
Falling emissions
Scientists predict that the overall global carbon emissions for the year will decline by around 6-8%3. This will be the largest drop in emissions since records began4, surpassing those of the 2008 financial crash and the Second World War. This drop is almost exactly the 7.6% reduction required year on year to meet the targets of the Paris Agreement5, keeping temperature increases below 1.5-2°C to avoid runaway warming and ecosystem collapse6.
However, experts warn that the reductions are nothing to celebrate7 and have come at huge and devastating social and economic cost. At the time of writing, more than 475,000 people have lost their lives to the deadly disease, whilst the global economy has declined by 5.2%8, threatening the livelihood of half the global workforce9, and the UK economy shrank by 20% in April, the largest monthly decline ever recorded10.
The impact on the climate of such a dip in emissions within a single year will also be negligible. In the long term, it will likely have no measurable effect on carbon concentrations in the atmosphere. Indeed, the Mauna Loa Observatory in Hawaii logged a record high atmospheric CO2 concentration of 417.2 parts per million this May11. Threat from warming remains as high as it ever was, and extreme climate trends continue. May 2020 was the hottest since records began in 1850, and 2020 is still on track to be the hottest year ever recorded12.
Lead author of the Nature Climate Change paper, Professor Corinne Le Quéré explained, "This is a really big fall, but at the same time, 83% of global emissions are left, which shows how difficult it is to reduce emissions with changes in behaviour. It is not desirable – this is not the way to tackle climate change. Just behavioural change is not enough," she said. "We need structural changes [to the economy and industry]. But if we take this opportunity to put structural changes in place, we have now seen what it is possible to achieve."13
A green recovery
Whilst the emissions drop during the pandemic will not have a lasting effect on atmospheric carbon concentrations, the way governments respond with recovery packages is very likely to. Following the 2008 financial crash, global emissions went into stark decline. However, by 2010 they were at a record high, as economic stimuli from governments were implemented with little regard for environmental outcomes14. For example, China invested heavily in high emitting construction and heavy industry. There are warning signs of this happening again as environmental regulations have been relaxed in both China15 and the USA16 to boost Coronavirus recovery – whilst EU member states are backing proposals that will reduce the responsibilities of airlines for their emissions, saving the industry billions in offsetting measures17.
If we are to meet the Paris Agreement to halve global carbon emissions by 2030, we must not allow history to repeat itself. Recovery investment following the pandemic could be as high as 20 trillion USD18. This will shape the economy for at least the next decade, during which time pivotal changes must be made to avoid tipping points that will pose existential threats to life. We are unlikely to see such large-scale spending by governments again this decade – it must, therefore, be used to simultaneously aid Coronavirus recovery and to respond to the climate emergency.
A green recovery can go hand in hand with positive economic outcomes. A recent survey of leading economists found that economic stimuli targeted to have 'good environmental outcomes' would be as beneficial for job creation as environmentally destructive investments, whilst reducing emissions at the same time19. After the 2008 financial crash, only 16% of global stimulus spending was green, but that section of funding was successful, contributing to the expansion of renewable energy and huge drops in the costs of both wind and solar power20. With the costs of these technologies at an all-time low, now is the ideal time to be investing in such energy infrastructure. Such wide-scale climate-conscious public spending could bring about lasting structural change to economies worldwide and could do a lot to put us on track to keep warming below 1.5°C as per the Paris Agreement.
Whilst initial investments may seem costly to short-sighted policymakers, they are orders of magnitude less expensive than the alternative ecological and climate breakdown would be to the global economy. A catastrophic scenario, which the International Energy Agency (IEA) warned would be more likely if post-coronavirus investment is not used to decarbonise the economy21.
But will such spending be on the political agenda? There are worries that political momentum surrounding the climate may be lost due to the postponement of a major climate conference, CoP26. However, there is evidence of an appetite for a green recovery across many sectors. Recently, 200 CEOs of some of the largest businesses in the UK wrote to the Prime Minister to call for a 'clean, just, recovery', stating, "we believe we must use the recovery to accelerate the transition to net-zero."22 The Prime Minister also received a letter from an alliance of over 150 business leaders, charities, and public figures, calling on the government to align recovery spending with the UN's Sustainable Development Goals23. Further afield, the German24, Spanish25, and South Korean26 governments, along with the EU27, have all announced rafts of new climate spending. However, there has been criticism that some of these policies have not gone far enough. In many places budgets have also been allocated to propping up highly polluting industries, such as will likely happen with aviation in the EU28.
Similar trends have been identified within the general public, with only 9% of Brits stating that they wanted to return to pre-pandemic conditions in a recent YouGov poll29. Worldwide, 71% of those polled by Ipsos Mori agree that climate change is at least as serious as COVID-19, with 65% stating that tackling climate breakdown should be prioritised in post-coronavirus recovery30. The momentum of the environmental movement over the past few years may combine with recovery from the pandemic as a turning point in public awareness and demands, which could lead to significant shifts towards greener policy.
With such a seismic shake to the very fabric of our modern lives, we have seen that it is possible to transform society on a global scale to protect ourselves. We now have the opportunity to reprioritise our economy to serve our values and needs and create a society with sustainability and wellbeing at its core. By working to solve two problems at once, a future of healthy people and a healthy planet is possible.
This article was specialist edited by Lauren Shotter and copy-edited by Mais Al-Attili.
References