Raising Female Leadership for a Sustainable Future of Our Planet: Mother Nature Needs Her Daughters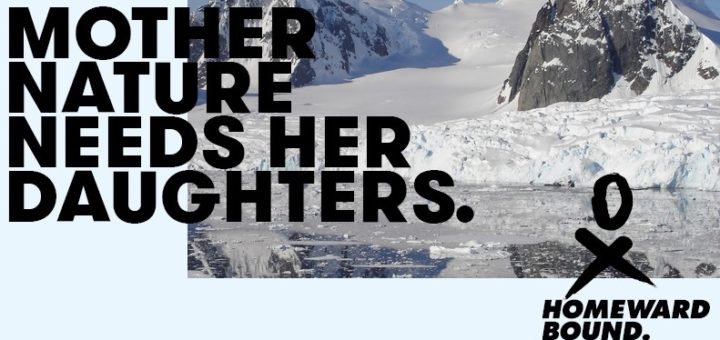 In this article, I would like to present the Homeward Bound leadership initiative which aims at building a global network of 1000 women in STEMM (Science, Technology, Engineering, Math & Medicine) to influence policy and decision making as it shapes our planet.

The initiative of Homeward Bound was founded in 2016- the program was originally a dream of Australian leadership expert, Fabian Dattner, who believed the world needed a program to unlock the leadership potential of outstanding women in STEMM. The initiative aims to upskill and support women to lead, influence and contribute to decision-making about the future of our planet.

Research repeatedly shows that women demonstrate great integrity and a legacy mindset (a focus on what we leave behind for future generations) when it comes to leadership, decision-making and the creation of collaborative and effective teams. This is often visible by the establishment of mentorship programs and peer training opportunities, creating an overall inclusive and sustainable environment that lasts. For further information, you can have a look at the following resources, 1 and 2.

Nevertheless, women are overwhelmingly under-represented in the traditionally male-dominated professions. Currently, less than 26% of the world's researchers are women, and even fewer are in leadership positions in most STEMM professions. In the UK, the female STEMM workforce is just 24% – however, this percentage varies greatly if split up by the different disciplines – with 11% in Engineering in compared to 42% in Science Professional Occupations. Women hold only 15% of the Management positions across all disciplines. For more information, the WISE campaign offers a statistical overview for the UK 3. This underrepresentation comes at a time when women leaders could make a tangible difference in contributing to a more sustainable world – due to their often different leadership style and introducing more diversity to the established leadership league.
In light of the recent publication of the Intergovernmental Panel on Climate Change (IPCC), Special Report on Global Warming of 1.5°C, projects, such as Homeward Bound, are becoming even more valuable as they aim to create a global collaborative leadership with a strong voice for advocating change towards a more sustainable management of our resources. The report contains impact scenarios for a global temperature rise of 1.5°C and 2°C and includes suggestions for global responses to react to the threats of climate change, ensure sustainable development and eradicate poverty. The most important point the report makes is that at the current rate of global warming, we will likely reach an increase in temperature of 1.5°C by 2050, which is much sooner than previously estimated. In order to not exceed the 1.5°C increase, the report states that we have to reduce our emissions by 45% by 2030 and reach net zero emissions (not emitting more than what can be absorbed) by 2050. This is an enormous task for humankind that will require immediate action from industries, construction, energy sectors, transport, land use and city councils. At the same time, those actions will need to be feasible in terms of the environment, technology and economies, as well as being socially and culturally suitable.

The negative impacts of global warming include a significant rise in sea levels, which will impact human life near the coast both for the practicalities of living and also economically. Even a minor rise in sea level can lead to erosion, flooding and destruction of habitats for birds, fish and plants, as well as leading to contamination of agricultural land. Furthermore, we can expect to see an increase of extreme weather conditions, more ice-free summers in the Arctic and a loss of the majority of coral reefs (70-90% in the case of 1.5°C warming and 99% at 2°C) – all of which can have devastating outcomes for human communities and the economy. The full version of the IPCC report can be found here 4.
Surprisingly, despite the impacts of global warming being recognised for decades, very little has changed. In fact, the fight against climate change has recently taken a backward step, with Donald Trump withdrawing from the Paris Agreement last year – despite the US being the second biggest carbon emitter after China. The Paris Agreement is an international agreement within the United Nations Framework Convention on Climate Change, dealing with greenhouse gas emissions mitigation, adaptation and finance and was signed by 195 countries in November 2016. In conclusion, the IPCC Special Report clearly highlights our lack of action. A combination of questionable leadership of main contributors to the pollution, such as the US, global warming is very soon going to lead to substantial changes to our current living situation. The whole world should be in an emergency state, but we are not.

As mentioned before, Homeward Bound is an initiative that aims to equip 1000 women from STEMM around the world with leadership skills. This will add more diversity to the leadership table, not only for tackling the problems caused by climate change but also other global challenges, such as health and gender equality, to generally improve our society and offer a better future on our planet for future generations. To achieve this, the initiative offers a global 12-month leadership program concluding in a three-week-long marine expedition from Argentina to Antarctica. 'It is no accident that we end up in Antarctica, as it is part of the vision. It is where we can see the impact of our inaction first-hand. It is sensitive and challenging, awe-inspiring and motivating, and I can think of no more fitting experience for a group of leaders.' states the founder Fabian Dattner. The program covers the areas of leadership development, strategic capability, visibility and communication as well as science collaboration. In addition to the faculty, the program will leverage the collective knowledge and expertise of participants to collaborate on chosen subjects and share that knowledge with the larger Homeward Bound community. And remember, much of this is done in the midst of icebergs, penguins, whales and like-minded women!
Homeward Bound has just launched its fourth cohort, encompassing 33 nationalities and its most diverse representation of STEMM fields to date. I am immensely proud to have been selected as one of 100 women from around the world taking part in Homeward Bound 4 (#TeamHB4). I am a postdoctoral researcher at the University of Strathclyde with experience in bioimaging, environmental microbiology and studies of evolution. With my participation, I am following the footsteps of a former colleague of mine, Dr Kirsty Robb (postdoctoral researcher at Strathclyde), who just arrived back from her expedition as part of Team HB3, as well as Dr Katherine Duncan, one of the Chancellor's Fellows at Strathclyde who is an alumni of the second cohort (Team HB2) and returned as onboard Science faculty for this years expedition. More information about Homeward Bound and the women taking part can be found under 5.
While the expedition is generously subsidised by Homeward Bound, this exciting project is largely self-funded, where all participants who believe in the project's vision are buying-in. Each woman chosen for this expedition has been tasked to raise 17,000 USD (13,000 GBP) to contribute toward the cost of the program and her spot on the expedition, in addition to around 2600 USD (2000 GBP) for the travel to Ushuaia (Argentina). If you would like to support me, please have a look at my fundraising campaign 6.

This article was specialist edited by Kirsten Russell and copy-edited by Gemma Donnelly.
References