Glasgow Resists Antibiotic Resistance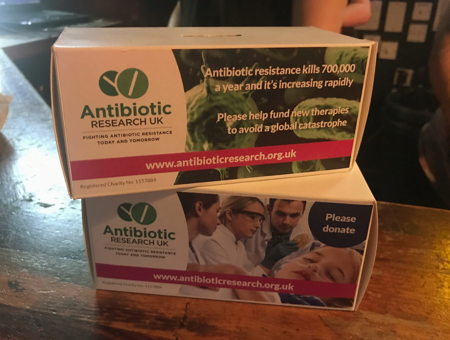 Did you know that by year 2050, almost 10 million deaths could be directly linked to bacterial resistance against antibiotics?1

2018 marked ninety years since Fleming's discovery of the first antibiotic, penicillin, which forever changed the way we treat diseases2. For decades, antibiotics served as the foundation of modern medicine. However, we may soon lose the ability to take advantage of their role in treatment. It is slowly becoming obvious that, due to persistent misuse and overprescription, antibiotic resistance is becoming a globally growing threat3. If we want to continue effectively fighting infections, this matter needs addressing by not only health professionals, but also members of the general public.

In 2015, the World Health Organisation created a programme called World Antibiotic Awareness Week. Each November, they invite partners from all over the globe to join in spreading the knowledge about antibiotic resistance, infection prevention and sustainable investment in healthcare4.
Glasgow also tries to increase the understanding of antibiotic resistance and its consequences. As well as local events run by students, institutions like the Royal College of Physicians and Surgeons of Glasgow have worked towards addressing antibiotic resistance5. Every year, students of third year Medical Microbiology at University of Glasgow
organise their own spin on Antibiotic Awareness Week. In 2018, the campaign was run between 12th – 16th November, with social media posts and multiple events around campus. They were able to engage people of all backgrounds and ages in the science of antibiotics.

Alongside an ongoing social media coverage, the students organised for supporters of the awareness campaign to compete in a pub quiz. It was a chance for the public to meet the students running this fantastic project and make donations to Antibiotic Research UK. There was medical knowledge and music rounds; there were awards for the winning and losing teams. And, most importantly, there was a common understanding of why it is crucial that we support research into antibiotic resistance and do our best to share our knowledge with the people around us.
TheGIST team was there and asked students responsible for this initiative a few questions:

How was the issue of antibiotic awareness related to your course?
As Medical Microbiology student, antibiotic resistance is central to the course. The development of drug resistance among bacteria is one of the biggest challenges facing modern medicine, with many of us likely to have careers based around this challenge.


Why is antibiotic resistance an important issue for our generation?
In recent years, an increasing number of bacteria have become resistant to many frontline antibiotics. This can be attributed to poor disease control, and the over prescription and misuse of common drugs. As more and more bacteria develop resistance, the diseases they cause becomes harder to treat. Our aim during Antibiotic Awareness Week was to raise awareness of the issue, and educate people on ways they can use antibiotics more responsibly.

What was the idea behind organising the pub quiz?

In the initial meeting we came up with a number of ideas for ways we could raise money and involve people who may not have a direct interest in the subject. The year before hosted a pub quiz which was a success, so we decided to host our own at The Record Factory.


Throughout your campaign, you raised over £250, how are you planning to allocate these contributions?
All money raised from the pub quiz, bake sale and raffle will be donated to Antibiotic Awareness UK. Furthermore, all proceeds will be generously matched by the Robertson Trust.6

A huge congratulations to the organising committee of Antibiotic Awareness Week for engaging so many young people in the important cause that is antibiotic resistance. They managed to raise a generous donation for Antibiotic Research UK. If you too feel passionate about increasing antibiotic awareness, you can still join the initiative at https://antibioticguardian.com/
Edited by Frankie Macpherson
References