Present at This Year's Let's Talk About [X] Conference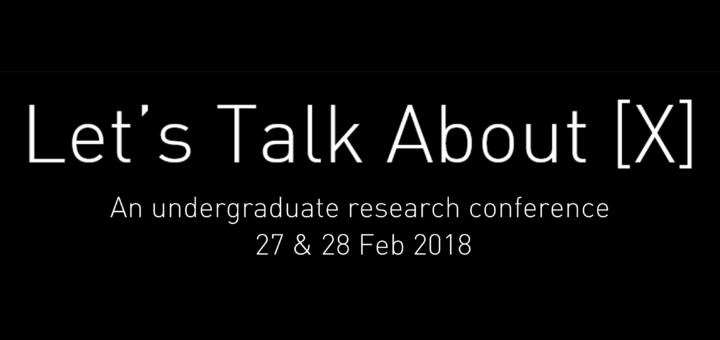 Let's Talk About [X] is an annual conference that showcases the exceptional research carried out by students within the University of Glasgow. If you are an undergraduate student at UofG and you have a piece of original research (a project or a dissertation) that you would like to talk about, we'd love to hear from you. The conference is a unique opportunity to tell an audience of around 300 people about a topic that you are passionate about – no matter what subject you are studying. This year's event will be held on the 27th and 28th of February.
If your application to present is successful, you will receive personalised mentoring from a PhD student to develop your talk, and the opportunity to attend workshops to help you hone your presentation skills. As well as being a fantastic experience, involvement at the conference is an excellent addition to your CV. Previous presenters have gone on to do some really exciting things such as a PhD studentship at the Max-Planck Institute, a Masters at Utrecht, and working at the Ministry of Defence.
If you are interested in speaking at this year's conference, just follow this link to be taken to the abstract submission page. Your application will consist of a 150-word abstract summarising your research which will be judged by a panel of experts. A guide to writing an excellent quality abstract can be found here, and information about previous topics which have been presented is here. We look forward to receiving your application! Of course, even if you are not interested in presenting, you are very welcome to join us in the audience. You will have the chance to hear about the fascinating and important work being done at the university. From robots to religion, satellites to cycling – a whole host of topics will be discussed over the two days. The conference is free to attend, with tickets being available shortly on our website.