MAGAZINE RELEASE: Get yours at our Intro Events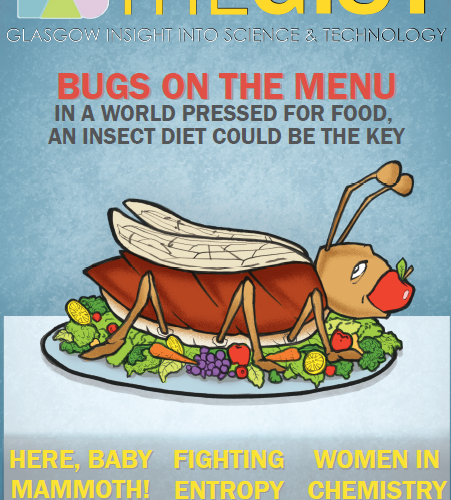 It's here. theGIST Magazine Issue 3.
We are very proud of our newest publication, crafted with love and build on curiosity by our dedicated team of GISTers. In our third issue, we re-visit a series of captivating issues: the ever important debate of women in science academia with a critical look at the progress and continued challenges lying ahead; the pressure on the world to feed its population and how an insect diet might help; and whether or not the UK is ready to re-introduce big predators into the wild. We also explore the intricacies of de-extinction, the future of 3D biopriting, and what might possibly save the universe from an ultimate heat death – and so much more.
Naturally, you will want to get your hands on your copy – we appreciate that. Fortunately, theGIST is entirely free and will be available here:
Tuesday 16.09.
10AM – 5PM:
Freshers' Fair at the University of Glasgow, find us in the Marquee, just to the left of the entrance – or simply look for people wearing theGIST t-shirts.
Wednesday 17.09.
10AM – 4PM:
Freshers' Fair at the University of Glasgow, find us in front of the Fraser Building opposite the library.
6PM – 8PM:
theGIST Introductory Glasgow Event in the Gilchrist Postgraduate Club Seminar Room at the University of Glasgow. Come along to find out more about you become an experienced science communicator, learn the tools of the trade and gain an invaluable network of like-minded people in science. There'll, of course, be free magazines, chat and science-related snacks!
Wednesday 24.09.
10AM – 3PM:
Freshers' Fair at the University of Strathclyde! Look for the stall or people wearing theGIST t-shirts.
Friday 26.09.
6PM – 11PM:
Meet theGIST at Explorathon at Glasgow Science Centre. Find theGIST stall, pick up a free magazine and be part of theGIST's live instalment of our YouTube videos "Just theGIST"!
Wednesday 01.10.
6PM-8PM:
theGIST Introductory Strathclyde Event in the Lounge in the Strathclyde Union at the University of Strathclyde. If you missed the first event at the Gilchrist, come along to the Strathclyde Union and hear more about science communication in Glasgow. Here you'll also be able to pick up a free magazine, have a chat, and eat interesting science snacks.
If you've still not managed to secure a copy, despair not. They will be made available throughout campus as well. Especially check the SRC Welcome Point, the Hunterian museums and common rooms in the science buildings.