TEDxUniversityofGlasgow's 2019 Conference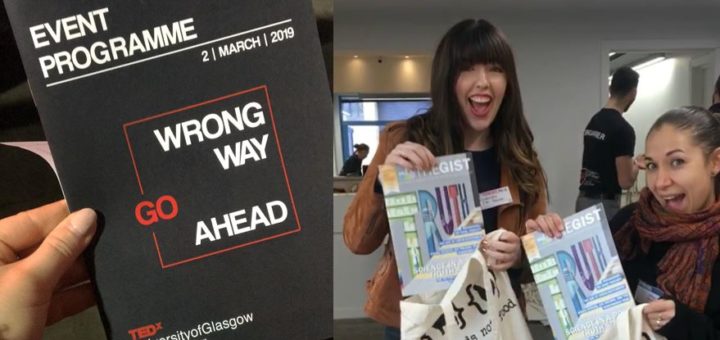 "Wrong Way – Go Ahead" was the theme of TEDxUniversityofGlasgow's 2019 Conference. The somewhat paradoxical and enigmatic phrase begged the question: what was the theme alluding to? Flipping over the event programme revealed a definitive answer:
'Telling histories of exclusion and refusal to comply with the norm and how these can lead to greatness, self-accomplishment and achievement. Difference is a chance for growth, self-improvement, and not an end in itself. We think we hit a wall, but sometimes it is merely a step towards achieving our full potential.'
Intrigued and already excited, this thought-provoking pamphlet was merely an inkling of the inspirational and enthralling talks that would follow. TEDx is a program of independently organised events that bring the spirit of TED's mission of ideas worth spreading to local communities around the globe, and TEDxUniversityofGlasgow's 2019 Conference did just that. In addition to the captivating live speakers, the host's encouraging words as well as performances, an exhibition space, and coffee/food breaks all created an engaging atmosphere for audience members not just to sit and listen but also share ideas with each other and, ultimately, bring these out into the world. A concept captured by the host's introduction, quoting Mark Twain, 'I have never let my schooling interfere with my education.' After this, the day kicked off with some guided exercises; breathing in and out for a number of counts, guiding a stranger's hand through the air with closed eyes, and jumping up and down several times – these made it natural to wonder how one had ended up here before taking a seat for the show to start. All acts aptly fit in with the reminder that: there is no wrong way. The only way we can go is forward. And with that, the first talk started.
Judith Robertson – Chair of the Scottish Human Rights Commission
The first speaker was Judith Robertson, chair of the Scottish Human Rights Commission 1, who shed light on the sphere of Human Rights as 'human rights cover all aspects of our lives'. More importantly, she highlighted that decisions concerning our rights are often made in 'conversations behind closed doors' but that human rights might 'also have the power to give people power'. And so, Judith told her story of bearing witness to certain housing conditions in Scotland, proclaiming 'it was vital we got their voices heard.' The realisation of residents' rights and engaging people in the process transformed the lives of residents, improving not only their standard of living but also their quality of life. 'Human rights when met ensure our human dignity is ensured.' With human rights enshrined in local and international law, Judith described how change is possible, noting the powerful effect of advocacy, the balance of power, and holding people accountable for their actions lying at its core. But perhaps more importantly, she reflected 'discomfort is where change happens'.
Mark Symes – Chemistry Researcher at the University of Glasgow
Next up was Mark Symes, a Chemistry Researcher at the University of Glasgow 2, working towards creating a sustainable energy future. Breaking data down into more comprehensible terms, he described how the energy we currently consume is equivalent to 5 billion kettles constantly bubbling. Approximately 80% of this energy comes from burning fossil fuels, the largest source of greenhouse gas emissions and, thus, CO2. Mark highlighted that although CO2 is essential for life on earth, 'small changes [in CO2 emissions] can lead to big changes in temperature'. Therefore, with a growing population and increasing energy consumption, 'the earth is getting hotter at an ever-increasing rate.' While arguably relatively well-known facts (though the kettle description raised alarm bells in my mind), the talk was followed by debunking commonly held public beliefs, insightful explanations of some key challenges facing researchers in the field, and a final powerful call to action.
Mark discussed how media reports of fossil fuels running out prompt a dangerous fallacy: 'no need to worry, we don't need to change our behaviour' since we'll run out of fossil fuels soon anyway. However, this is not the case, evidenced by 'the more we look for oil the more we have found', so 'we are not running out because we keep finding more', with an estimated 2-3 times more oil than back in the 1980s. He raised the question: if we don't want to continue using fossil fuels, what are our options? Nuclear and biofuel are niche solutions but on their own not viable options to meet the needs of our growing population, which leaves renewable energy sources. Renewable energy is energy collected from sources that are not depleted when used, possessing the ability to replenish by natural resources. Examples include wind, geothermal, hydro, and the largest source of all: solar, with vast amounts of energy from the sun pervading the earth's surface. Probing further, Mark emphasised, while switching to renewable energy is vital, a key hindrance to this solution is its storage. Since the sun doesn't always shine, which everyone is more than familiar with in Scotland, storing solar energy is essential, and one way to do this is to produce solar fuel. If you combine electrical energy and water, you can split water molecules into its chemical elements: hydrogen and oxygen. Hydrogen can, in turn, be used as a fuel or, whenever needed, recombined with oxygen to regenerate water and produce electricity. While the science already exists, cost-effective, durable and high-efficiency systems are still in development. So, what can we do to make a difference? Mark advised 'first off, stop driving a fossil fuel car, secondly, buy a hydrogen-powered car (which unlike electric cars does not produce CO2) and, most importantly, use your vote!' A particularly powerful statement, given the current political climate. To end, Mark quipped 'keep calm and love hydrogen!'
The next two speakers diverged from the science theme, tackling serious social matters through food and poetry.
Matt Fountain – Found of Freedom Bakery
Matt Fountain, the founder of 'Freedom Bakery' 3, described the unforeseen venture that led him away from academic life into the social sector and, ultimately, to establishing 'a bakery with a conscience'. Freedom bakery was originally set-up within prison walls, training people within the prison system in baking. The aim: to breakdown the barrier people face in finding work once released from prison. Through a successful crowdfunding campaign and substantial investment from Resilient Scotland, the social enterprise has now expanded beyond prison walls with a bakery in Glasgow. Freedom Bakery seeks to curtail reoffending rates by offering professional training and employment opportunities and is successfully doing so. Depicting his experience, Matt stated 'there's no them or us – a baker is a baker'. Dropping a PhD to pursue another passion riddled with hurdles is no easy decision, and Matt's story neatly illustrates that although it may sometimes feel like one's taking the wrong way one should still go ahead.
Sean Lìonadh – Filmmaker and Poet
The theme was next portrayed by filmmaker, Sean Lìonadh; not through film, but through an unwaveringly honest and fearless talk that alluded to the issues featured in his film 'Time for Love' 4, a film about homophobia and shame. Contesting normality as a 'crowdsourced fantasy', Sean seeks to cultivate authenticity through film – which undoubtedly lay at the heart of his talk. Recounting a threatening confrontation by two homophobic men and his youth of growing up between households due to his parents' alcohol relapses, Sean's talk dissected self-loathing and hate. He deconstructed the 'bewildering confrontation of what you don't like about yourself' down to shame and rage. But offered that 'although hate is akin to the sharp edge of a knife, truth is the warm edge', and the more we 'look for truth in the heart – more sharp edges vanish.' Though his talk described harrowing experiences and uncomfortable thoughts we all hold, his story ended on an inspiring note, leaving the audience in reflection.
Miha Pipan – CSO of Entomics Biosystems
Returning to a science theme was Miha Pipan, CSO and founder of Entomic Biosystems 5, presenting a novel solution to food waste, 'insects, that's right insects!' Announcing his talk would be about 'food and how food is life', the audience nodded in agreement, having just returned from lunch. Food is essential to human life, demonstrated by humankind's history; the agricultural revolution, through improvements in crop farming techniques and the domestication of animals, stimulated a growth in human population, which has since been growing. However, Miha noted, 'while we are successfully feeding around 7 billion people, food production is not sustainable'. 'Approximately a third of all food is wasted', Miha stressed, reiterating findings from the Food and Agricultural Organization of the United Nations 'if food waste was its own country it would be the 3rd largest polluter after China and the USA.' 6. Though he emphasised not a single solution can solve this problem, he announced 'insects are going to be one of the driving forces in making food production sustainable.'
Most of us are aware of the crucial role bees play in pollinating our crops underpinning their performance. Lesser known is that of insects and their role in waste or biomass recycling, which Miha enthusiastically explained. Insects ingest, digest, and convert waste into fertile soil, with minerals and nutrients, therefore, recycled back into crop production. This system is known as 'insect biomass conversion' and the key role insects play in food production. Insects scavenge most types of waste and are able to achieve conversion of waste to soil quickly, making the system score well in terms of sustainability metrics since it requires minimal water use. Miha highlighted that as a result, insect biotechnology is a global technology, present in both developed and developing countries, with insect farmers propping up around the world to support this sustainable food production movement. However, as the movement grows, it's facing unique challenges. Miha described regulation as currently 'archaic'. He explained that since insects live in different environments from farmed animals, new and distinct regulations are required to address this to ensure efficiency is maximised and consumers are protected. But, he noted more important than this is making us as consumers aware of insect biotech since we shape what's in supermarkets and influence the adoption of new technology. With that food for thought, Miha finished by appealing to the audience to 'make insects great again.'
Noor Sabha – Psychology Student
After Miha, was Noor Sabha, a psychology student from the University of Glasgow and mental health activist. Noor told her tale of growing up and how she learned to harness her inner rebel to lead a path of self-acceptance. She narrated her past struggles of feeling 'barricaded in a cage of expectations […] running a race I can't win […] running out of breath'. Deciding to dig her way out of the cycle of high expectations and resulting feelings of failure and incompetence, Noor pursued her passion: breaking the stigma surrounding mental health and speaking out about it. Though frowned upon by her family, who feared she'd be unable to find a job, Noor persisted and is now a mental health advocate, and as she cleverly puts it 'more importantly [than being successful] I'm happy'. All too familiar with the comfort of conforming, she called on the audience to push themselves outside their comfort zone and take part in 10 days of rebellion, since 'we were not born to be caged but different […] not born to be constructed but born to construct', exclaiming 'don't let fear hold you back.'
Elisa Morgera – Glasgow Environmental Lawyer
Following Noor was Elisa Morgera, a global environmental lawyer 7, who discussed the importance of indigenous communities' involvement in natural resource management, which she had experienced first-hand in her travels to lithium mining projects on indigenous land in North Argentina. Moreover, she explained her role as an international lawyer is to ensure that 'international law provides more than vague notions but concrete practical steps'. She brought attention to recognizing indigenous peoples' worldviews as the basis of starting dialogues to build mutually beneficial relationships between companies, governments, and indigenous people. Rather than expecting consent, she emphasised the need for safeguards with mutual influence in order for indigenous people to exercise control over their own loads. But perhaps most important 'the need for a different process!'.
Paula McGuire – Author and Blogger
Another break later and Paula McGuire took the stage, proclaiming she'd share her talent 'how to successfully fail.' 8 In the past, chronic depression, anxiety, and panic attacks had led her to cut out everything she feared she might fail at, with her greatest fear 'to be seen to be failing.' Acknowledging she could not cut herself off from the world, she decided she needed a change. From learning to cycle to riding a human catapult, Paula explained how 'learning to fail on my own terms was freeing' since in all her failures 'nothing happened, nobody cared', and she grew a 'willingness to accept failure and welcome it!' Her words of wisdom 'bring your own measuring tape [because the] only comparison that we can live up to is ourselves' were comforting and her advice to 'grow from experience [be it] success or failure' never felt more truthfully spoken.
Soumya Polavarapu – Biochemistry and Art History Student
Last to speak was Soumya Polavarapu, a student from the University of Glasgow majoring in Biochemistry and Art History. Soumya shared her personal story of discovering how colonial mentally is embedded in society, namely how she realised it was in her. After taking Harvard's implicit association test 9, Soumya discovered she had a strong preference for white people and associated negative qualities with people that looked like her. Shocked by her findings, she sought to understand how this could be. She explained the mentality can be spread through direct actions, such as legal exclusions or the caste system in India, but also indirectly through life narratives and ethnic and cultural identity. But, cleverly, using stem cells and their ability to regenerate and repair diseased tissue as an analogy, Soumya ended her talk asking the audience 'why not repair our diseased mindsets that prevail our countries?'
The TEDxUniversityofGlasgow's 2019 Conference was inspiring to say the least, and we at theGIST were grateful to return this year. Though waking up on a Saturday at 8 am didn't feel quite right, remember: Wrong Way, Go Ahead!

This article was specialist edited by Caitlin Duncan and copy-edited by Kirstin Leslie.
References