Fungal Killer vs. Bacterial Champion: The Battle for Kermit's Life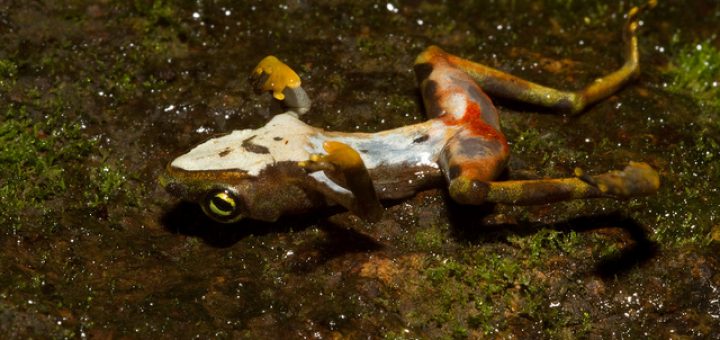 There is a killer out there, and its name is Chytrid… Well, actually it is Batrachochytrium dendrobatidis (Bd). The spores of this aquatic fungus get under the skin, causing it to ulcerate and slough off abnormally, and it won't be long before the eyes, muscles and skin start haemorrhaging. Pathogenic bacteria will soon colonise these wounds, and death will follow in as little as 12 to 18 days. However, you don't need to worry unless you are an amphibian, the only group of animals Chytrid infects.
Roughly a third of amphibian species (that's over 2000!) are either threatened or endangered, and this highly pathogenic fungus is considered to be a major contributing factor. Thought to have caused worldwide population declines, Chytrid has even caused extinctions (e.g. the unique gastric brooding frogs of Australia). But why is it so deadly? The answer could be that we have unwittingly introduced it to populations that have no prior exposure or immunity… Oops!
Chytrid was probably a stable endemic in Africa, where it shared a home with Xenopus laevis (the aquatic African clawed frog), long before it went pandemic. Fun fact no. 1: female Xenopus exposed to a pregnant woman's urine produce eggs! Thus was born the first reliable pregnancy test (poor frogs), leading to a worldwide trade between the 1930's and 1950's. Fun fact no. 2: while Xenopus can get chytridiomycosisis it presents asymptomatically (symptom free). Some poor sanitation and the occasional release/escape later and, well… Watch out Kermit. The pet and food trades are also thought to have spread the disease.
For a long time Bd was thought to be the sole strain of Chytrid. However, this changed with the near extirpation (local extinction) of fire salamanders in the Netherlands between 2010 and 2013. In this unprecedented case the population crashed by 97%! Recent examination revealed a novel strain of Chytrid (Batrachochytrium salamandrivon), probably introduced from Asia by the exotic pet trade. This strain has an incredibly high mortality rate in caudates (newts and salamanders). The Zoological Society of London is so concerned that it is holding a conference on it this December, fearing it could annihilate our legally protected great crested newts, which are particularly susceptible, if it enters the UK.
What can be done about Chytrid? Sadly, not much. In captivity, increasing temperature or salinity and various antifungal chemicals have helped, but these are infeasible with wild populations. However, the answer may lie in a quirk of amphibian biology, as they rely on skin microorganisms for much of their immune defense. Certain bacteria can prevent Bd chytridiomycosisis, and seeding previously susceptible species with these bacteria has been shown to prevent infection. Obviously it is early days, and we must be careful, as friendly bacteria can turn nasty given the opportunity. However, maybe we have reached the lowest ebb, maybe we have found a way to turn the tide on Chytrid driven amphibian declines.
Edited by Debbie Nicol