Hunting for Answers – When Art and Science Combine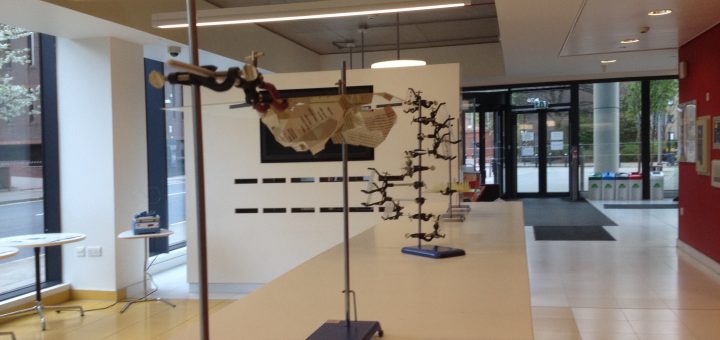 On the 7th and 8th of June, the Hunting for Answers exhibition returned to the Strathclyde Institute of Pharmacy and Biomedical Sciences as part of Glasgow Science Festival's Strathclyde Science Special after a previous opening as part of Engage Week at the University.
The project was set up by Dr Maria Sanchez of the Chamberlain Lab at the University of Strathclyde and ASCUS Art Science Collaborative, a non-profit organisation which aims to communicate science in an artistic format through collaborative projects between artists and scientists. Ten artists (as listed here) were selected by ASCUS to undertake a micro-residency (a period of four days) in the Chamberlain Lab, during which time the artists learned of the group's work with the Huntingtin gene (responsible for Huntington's disease) and undertook several basic analytical practical experiments to give them an impression of scientific practice and research.
After the micro-residency concluded, the artists were given eight weeks to produce a piece for exhibition based on their experience in the lab, with emphasis on the group's work. The pieces included sculptures, prints, music and poetry amongst other art forms.
Before entering the exhibition, I was a little dubious as to what I should expect from art based on science. I thought that, despite having a scientific background, I wouldn't be able to understand the exhibits due to my not having an artistic background. However, I shouldn't have been worried as the exhibit as a whole was fantastically engaging.
Several pieces in particular caught my eye. Fraser Ross's DNA Tartan proved to be very popular amongst visitors, as well as being my personal favourite piece. DNA Tartan represented the combination of genetic and cultural heritage via family tartans. Unfortunately, no actual DNA-based tartan was displayed, due to the length of time required to produce a new tartan compared with the constrained time period given to produce a piece for exhibition.
For those just introduced to the field of human biology, it can sometimes be a difficult task coming to terms with the complexity of the structures that are so vital in expressing each person's unique physical form, such as the proteins that are coded for within the famous double-helix of DNA. This is what makes Charlie Knox's sound-based piece Amino acid so impressive. The Huntingtin protein (coded for by the Huntingtin gene) consists of 3144 amino acid residues folded into a complex shape 1. Knox assigned each different amino acid in the sequence a particular note, and then applied different effects relating to the type of region that each amino acid formed part of (e.g. hydrophobic, charged, etc.). The result was a cascading electronic-sounding signature of the entire sequence of the protein in question.
Amy Pickles produced Dashing Away, the Valiant Fraud for the exhibition– a media piece based around the different movements of lab apparatus, and a red cape. Both the video and the cape were visually impressive – the cape was printed with biological images, including images of eukaryotic cells, phospholipid membranes, DNA and the cell cycle. A close-up photograph of the cape and the video can be viewed on Amy's website.
David House's interactive piece HD Audioscope was particularly striking. It featured sound clips of apparatus from the Chamberlain lab in conjunction with audio of those personally affected by Huntington's disease speaking about their experiences of the disease and the difficulties its diagnosis brings. It served as a sober reminder to scientists (in the Chamberlain group in particular) that the nature of their work is extremely valuable to all those affected by the disease.
The Hunting for Answers exhibition certainly eased any doubts I may have had of my capability to interpret art and its underlying themes and influences. I am hopeful that in the future, more such science-based art exhibitions will be organised in the Glasgow area. Art and science have not always been compatible subjects, but it seems as though exhibitions of this type may open up a whole new audience for science – that can only be a good thing.
Hunting for Answers – When Art and Science Combine by Debbie Nicol was copy edited by Eloise Johnston
References