Glasgow Science Festival: Science on the Sofa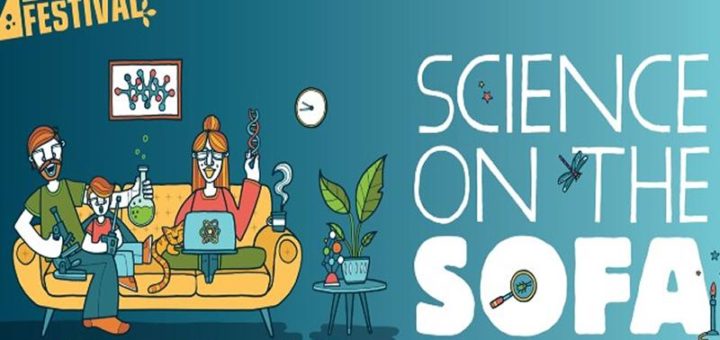 While September marks the end of any hope for a summer vacation, we can look forward to the Glasgow Science Festival (GSF) – and all from the comfort of our couches. After finalising the programme of events, speakers and activities before the pandemic hit, Dr Deborah McNeill then faced the challenge of adapting the festival to an online environment. Combining the contributors' enthusiasm and passion with incredible organisation, the fully online and free 'Science on the Sofa' will run 9th – 13th September, with content available for two months.1
Science in a pandemic
The science festival aims to engage and entertain people of all ages and backgrounds with fun and educational STEM content. During the pandemic, GSF also aims to inform on the latest developments in COVID-19 research. This includes talks with researchers who developed 3D printing technology for visors and produced the urgently needed PPE, and a group recently funded to examine the fluid mechanics of breathing and speaking. Moreover, the Centre for Virus Research and Lighthouse Labs, a national diagnostic network, have a series of educational and biographical talks to learn about COVID-19 testing and the researchers involved2 3.
First run in 2007, GSF has been successfully inviting the public into the science community for years. Although in-person interactions are no longer available, there are still stories of research, history and future work in science to share. Dr McNeill was excited by the prospect,
"..there are many more stories out there. I'm sure I'm not even scratching the surface with some of the stories I've uncovered."
This curiosity to deeper understand the world of science is reflected in the compelling range of online content. For example, some stories shared through images will be available to explore online in the intriguing collections of 'Images of Research', collated by the University of
Strathclyde4.
There are follow-along activities, virtual exhibitions and a host of talks to explore. These segments provide a welcome escape if you are feeling overwhelmed by coronavirus information. In addition to pre-recorded content, there is a dedicated live segment offering events like the 'Socially Distanced Science Quiz' with Sam Langford which creates a sense of company (and a bit of competition) without risking a trip to the pub5. Extending its reach outside the purely scientific realm, GSF will host a Facebook live stream with local record label, Olive Grove Records67.
From live music to online exhibitions of old and new science, there will be contributions including Johnathan Elders' virtual 'Laser Garden'8. This project integrates arts and science using a combination of lasers in a futuristic display, while the National Library of Scotland's 'Plague!' exhibition probes Scotland's history with contagious diseases9.
Online and accessible
Avoiding the spread of the current virus has challenged the GSF to adapt and remain as inclusive as possible. Dr McNeill commented that this is key, as GSF always tries to "put no barriers up" in terms of accessibility. The contributors usually "go into public spaces like community centres, libraries, the Botanic Gardens", but lockdown restrictions meant Dr McNeill had to reassess,
"This year it's a whole multimedia approach to try and give people really tangible activities that they can do in their own space."
Such activities include the 'Glasgow Science Centre At Home' broadcasts, with dedicated topics to learn about constellations, computers and beyond10. There is also a Cereal Box Robot Workshop in collaboration with BOOM! Community Arts, where you can put your old cornflakes boxes to good
use11.
While concerned about retaining the core audiences from the usual community spaces, Dr McNeill hopes to reach more people via this multimedia approach. For those who struggle to attend in-person events, the online platform improves GSF's accessibility and provides new engagement opportunities. Along with activities and scientists' talks, the 'Monumental Exhibition' is returning, celebrating Women in STEM12.
Socially distanced spaces, balloons and seaside science
However, accustomed to going into communities across Glasgow, Dr McNeill is concerned about the "digital divide and lack of resources". As such, the festival has contacted libraries and the Refuweegee centre in the hope of setting up socially distanced access to computers and provide extra resources where possible13. Attempting to maintain the beloved GSF Family Days, many 'Hands-On(line)' activities enable you to pull ingredients from your kitchen cupboards and try it at home. For example, the University of Glasgow's School of Life Sciences invites you to try crime scene investigation using only balloons and Sellotape for fingerprinting.
From getting your hands dirty (or, Sellotape-y) to focusing on your mind and body, the GSF team recognises the need to take our science off the sofa while maintaining a safe distance from others. Even if we can't all congregate for events, we can still go outside and experience nature. Acknowledging the benefits of movement and nature on our health, there's 'Vitamin-Sea', a segment encouraging people to move outside and explore the shorelines. Collaborating with nature, marine, and conservation organisations, a variety of seaside activities will be available, allowing you to explore and contribute to your environment.
So, whether you want to join a science quiz or virtual tours, learn about the evolution of SARS in Scotland, try some at-home activities or explore the science of our shores – the Glasgow Science Festival has it all. Adapting the format in just a few months and expanding to include coronavirus history and recent research, this year's festival is set to be a brilliant event.
'Science on the Sofa' from Glasgow Science Festival starts on September 9th, and the full programme will be available at glasgowsciencefestival.org.uk until November 9th.
Edited by Katrina Wesencraft
References