The science of the everyday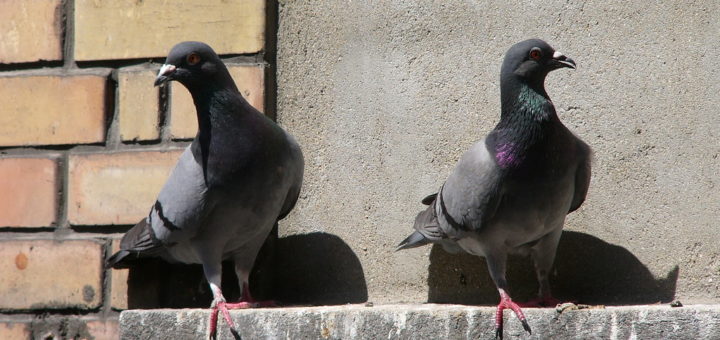 Every aspect of the natural world has a beautiful, intricate mechanism that has come about by trial and error – as described in Darwin's famous theory of Natural Selection[1]. But Charles Darwin did not begin his revolutionary scientific journey studying rare, complex organisms, but rather with one of life's commonest animals – the pigeon. Why? Because Darwin understood that the science of the everyday is not one to overlook and is in fact where we should all begin our journeys to understand the world around us. So, let us take a walk.
As you turn the corner from Bank Street to Gibson Street, on your way to another slog at the library, notice these few things and watch your calf-burning walk become markedly improved.
First, notice the rain on your face – did you know that bacteria in the sky called ice-nucleation active bacteria cause water to freeze at higher temperatures, forming cold rain and snow? Who knew bacteria controlled the weather[2]? Next observe the pigeons, strutting around with fewer legs than is ideal. These pigeons descended from the homing pigeons of WWI and II, retain incredible navigation skills, using smell, low-frequency vibrations caused by ocean waves far away at sea, and their own personal magnetic compass, to generate a mental map of their surroundings. This gives them the incredible ability to navigate home from any point in the city[3].
Further up Gibson Street, note the low walls straddling the pavement. See the thin green material coating them? Don't be fooled by their colour – these are not plants. This is lichen – a composite organism formed by a symbiosis between fungi and algae. While the fungus brings stability and protection, the alga allows for photosynthesis (producing energy from sunlight). Lichens are also unsung heroes, absorbing air pollutants, making it easier for us all to breathe. So, make sure to thank the little green fellas as you pass by.
When you reach the top of that frankly rude hill, you'll see other people. Stop for a minute to think – each of these people have a unique brain, with millions of neurons communicating with each other, allowing conscious and subconscious control of their bodies[4]. Each person has an army of immune cells, fighting a constant unseen war with pathogens. Everyone has a circulatory system, pumping blood around their body, causing their heart to race during exams, their forehead to sweat when they lie and their face to blush when they text a special someone. What an amazing animal we are, humans.
But, more importantly, what an amazing world we live in.
[1]https://www.nhm.ac.uk/discover/what-is-natural-selection.html?gclid=CjwKCAjwp7eUBhBeEiwAZbHwkQVgKt-TJNXfFlRGA7MyV6qGw1hw2TMKp412Mnii6mkEGwks6E3x4RoC0PgQAvD_BwE
[2] https://www.sciencefocus.com/planet-earth/bacteria-controls-the-weather/
[3] https://www.birdwatchingdaily.com/news/science/how-homing-pigeons-find-their-way-home/
[4] https://kids.frontiersin.org/articles/10.3389/frym.2017.00039
Edited by Liam Butler
Copy-edited by Claire Thomson