The Corona Zone: Podcasting our way through a pandemic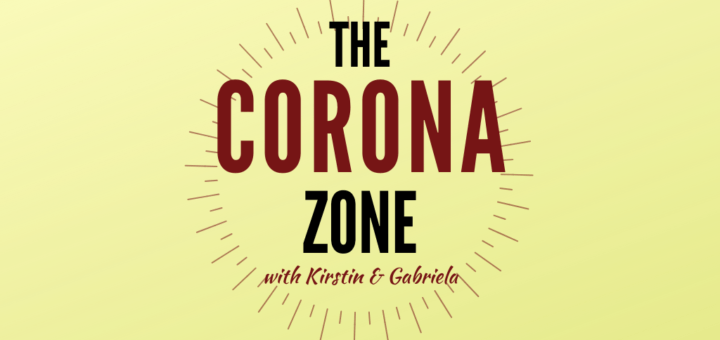 Launched in response to the COVID-19 pandemic, The Corona Zone is a podcast hosted by two GISTers, Kirstin and Gabby. In their weekly episodes, they try to make sense of the COVID-19 outbreak, with the latest news and by discussing the frustrations of self-isolation.
There are several ways you can choose to react to the country shutting down in the midst of a global pandemic. For me and my friend Gabby, we went and started a podcast about it. Our complicated love child, The Corona Zone is 'the podcast for people who are stuck in quarantine and wondering what the hell is going on'.
In the interests of accuracy, I have to point out that 'quarantine' is not the exactly correct terminology here — somehow, 'stuck in social distancing' didn't have the same ring to it. But if you're looking for a bite-sized weekly update, discussing everything from the significant COVID news stories to the more trivial aspects of social distancing, then it could be the podcast for you.
Oops 😅 https://t.co/RDQb1lTeM8

— The Corona Zone Podcast (@CoronaZonePod) March 19, 2020
When we started out, we were already consumed by coronavirus updates, so we chose to switch from spamming our group-chats about it and instead, turned this into something productive. As science communicators, we were especially concerned by early reporting that was lacking accuracy (does anyone remember the herd immunity confusion of *checks notes* two weeks ago?). We're both scientists and, while we're by no means experts in emerging infectious diseases, we thought we might be in a good position to scrutinise the news about it and discuss this with a little bit of insight.

However, it was also important to us that we have a bit of light relief in there too. There is no doubt that we are living through times unlike any we have experienced before, and there is no minimising the seriousness of this. But the other thing that we are all experiencing is a bizarre change in life circumstances. We wanted to discuss our own experience of this — even if that is something as inconsequential as missing going for pints, wasting my days trying to get clout in ScrabbleGo, and deciding whether or not to dye my hair. 

But we are also aware that for some, the social distancing measures will bring substantial challenges: the strain of working on the NHS frontlines during a global emergency; of balancing child care with full-time work-from-home; negotiating care for vulnerable friends and relatives; job and financial insecurity; struggling with unstable or unsafe home environments; risks to mental and physical health; and for everyone, it brings uncertainty. As part of this series, we are also interested in hearing about experiences outside of ourselves, through guest interviews and letters. If you'd be interested in telling us your coronavirus story (whether it be big or small or downright weird), please email [email protected]. 

To listen to our show, find us on Spotify or Apple podcasts by searching 'The Corona Zone'.
We are on Twitter @CoronaZonePod and Instagram @thecoronazone.

This article was edited by Katrina Wesencraft.